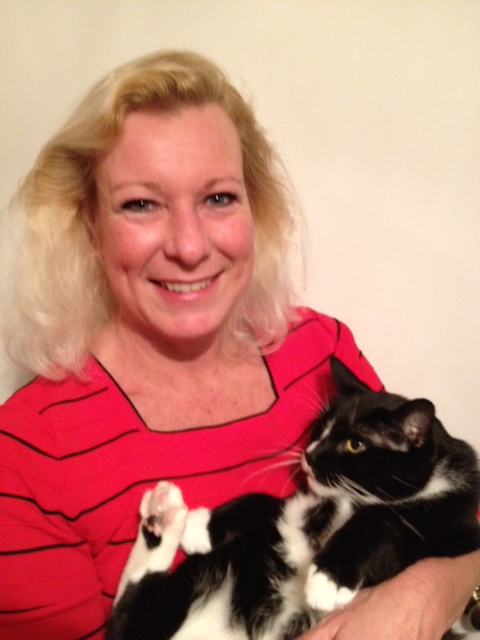 Ahhh … Welcome to this very important & exciting page!
As owner of Whisker Sitters, my goal is to keep all your furry family members safe, happy and healthy while you are away. I've always had a love for animals, and I am currently owned by 2 cats named Cozumel and Cabo. (Yes, you read that correctly. As much as pet owners do not want to admit it, our pets actually do own us … not the other way around!) Our "boys" have their own bedroom in our home filled with cat towers, toy boxes, pillow beds, and have more fun than a cat's meow!
And, until a few years ago when my father-in-law passed away at the amazing age of 92, I was also owned by his Miniature Schnauzer, Angel, as we shared ownership for several years while he battled cancer and spent numerous days and weeks in the hospital.



I am a proud native of this beautiful area and one of the few who can actually boast that I was born at Munson Hospital in Traverse City! While growing up in Leelanau County (Omena and Suttons Bay), we had numerous dogs and cats and whatever else I could catch and convince Mom and Dad we should keep.
I have always been very adept at getting stray cats and dogs to follow me home, and enjoy finding new forever homes for them when I'm told we had too many and couldn't possibly keep just one more.
My wonderful husband, Jim, and I have been together for almost 34 years now, and we've been very happily married for 30 years. Jim is a long-standing CPA in our community, and he's also my best friend and most-supportive fan in everything I do. Yes, he's one of those "number crunchers", which oftentimes makes it difficult to "sneak" another pet into our household without notice. You see, he keeps telling me, "We already have 2 cats and a dog to take care of and that's enough, don't you agree?" Sometimes I wish he wasn't such a pro of keeping track of numbers, so I could rescue and adopt "just one more" from our local shelters!
After working in the corporate world for too many years to mention, I decided it was time to do what I really want to do and enjoy. As the owner of Whisker Sitters, I absolutely LOVE what I do now … Helping Other People, Pampering Animals, and Being In Control Of My Own Life & Schedule Once Again!