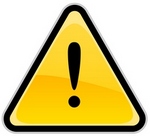 Positive test results for Canine Parvovirus (Dog Parvo) have been confirmed by a Traverse City area veterinary clinic. The infected dog was confirmed to have visited the Traverse City Dog Park located on Division Street (US 31 South) in Traverse City, Michigan on Wednesday, June 26, 2013. The City of Traverse City and the Parks & Recreation Department have been notified.
According to local veterinarians, Canine Parvovirus (PARVO) can remain in soils and grassy areas for several months, sometimes even years and is NOT affected or diminished by winter months.
Parvovirus is highly contagious to other dogs. Dogs that develop the disease show symptoms of the illness within 3 to 10 days. The symptoms include lethargy, vomiting, fever, and diarrhea (usually bloody). Diarrhea and vomiting result in dehydration and secondary infections can set in. Due to dehydration, the dog's electrolyte balance can become critically affected. Because the normal intestinal lining is also compromised, blood and protein leak into the intestines leading to anemia and loss of protein, and endotoxins escaping into the bloodstream, causing endotoxemia.
Dogs have a distinctive odor in the later stages of the infection. The white blood cell level falls, further weakening the dog. Any or all of these factors can lead to shock and death. The first sign of CPV is lethargy. Usually the second symptoms would be loss of appetite or diarrhea followed by vomiting.
Survival rate depends on how quickly CPV is diagnosed, the age of the animal and how aggressive the treatment is. Treatment usually involves extensive hospitalization, due to the severe dehydration and damage to the intestines and bone marrow. A CPV test should be given as early as possible if CPV is suspected in order to begin early treatment and increase survival rate if the disease is found.
For additional information on Canine Parvovirus, please read the following article and speak with your pet's local veterinarian.
http://m.petmd.com/dog/conditions/infectious-parasitic/c_dg_canine_parvovirus_infection